The Tile Process
I started doing tile the old ways with a mud float, screeds, and thinset that won't hold a tile up without support. With all the new products out and all the talk about how easy tile is, it's hard to know what is right and what works.
Systems that work that have been around for years are still used today and will give you a lifetime of service. We still do mud floats on showers and tubs. This allows us to plumb the walls and square the shower. If needed, or if the walls are straight and plumb we can use cement boards, but the ability to plumb the walls is limited. The process starts the same for both.
Showers and Tubs
First, We do a pre-float underneath the shower pan liner, we install the shower pan.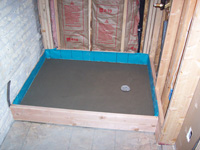 From there we flash every layer into the shower pan.
In the event that water gets behind the mud or cement board it will always go to the pan and not on the wall. From this point we can tile the shower with your design and accomplish a shower that will stand the test of time.
View our Cleaning Recommendations
Floors
On floors we still do lath and crete. This system allows for slight movement during the heating and cooling process which will allow your tile to flex slightly so your floor doesn't crack up in 3 years. There are other new systems and great products but they don't have the 20-30 year track record.

We start by taking the floor down to the wood. We paper and lath the floor.
We coat the floor with a mixture of cement, sand and an admixture.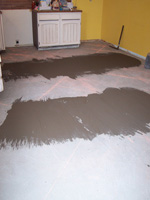 Once the crete coat is dry we can fill any dips or voids that have happened over the course of your homes life.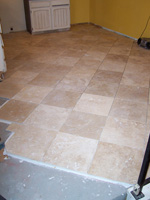 At this point we can cut in and start installing tile.
The processes we describe here are time consuming and can be tedious, but in the end will give our customers a product that they can use for years to come.
View our Cleaning Recommendations
As an after thought I have included some pictures of showers that weren't done correctly so you can judge for yourself, be informed and make a decision on what direction you want your product to go.